Thursday we had a lazy day, beginning with a blowjob for Musicman when he woke up. It doesn't have to be his birthday for me to want to give him a BJ first thing in the morning, I find it a delightful way to start the day. Since he never stops me, I'm assuming he likes it too. There was an after breakfast spanking and sex and then Musicman took a nap. The man requires a lot more sleep then I do and I have no problems with him napping when he gets the opportunity.
We had talked off and on over the course of the day about the birthday spanking, but he was tired and it didn't happen. Wish I could say I was good with that, but judging by my mood yesterday, I wasn't. I tried not to be cranky and nit picky, but I was failing pretty miserably.
We had a busy day of errands and shopping. It was hot and humid and we encountered idiots everywhere we went. That didn't help either one of our moods. By mid afternoon we had completed everything we needed to accomplish and decided to just relax and hangout in the pool and cool off.
After swimming I decided to shower and primp and pamper myself. That always helps me feel better. I bought a new dress while were shopping. It looks like this, only in black. It is really a bathing suit cover up, but I would wear it out with a pretty slip under it. Since I wasn't planning on going out, I wore it alone. Musicman approved.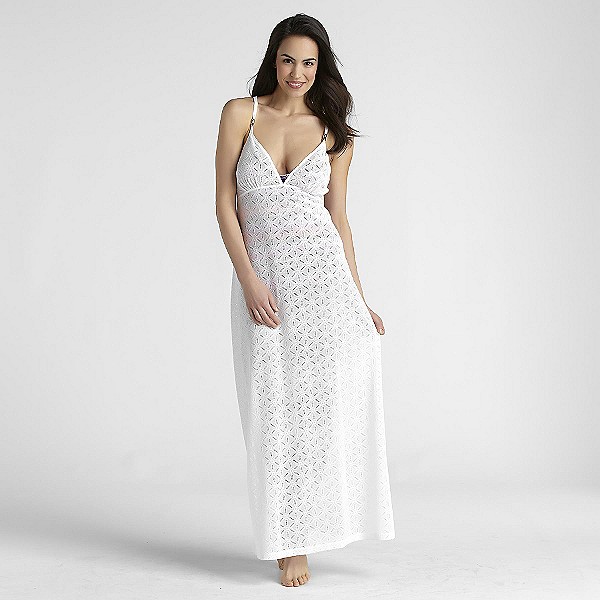 While I was showering he was out in the garage working on something. I soon found out what that something was. I was lounging on the bed watching some TV when he came in with his project. He made a paddle. It is 3/4" thick, 12" long excluding the handle and 3 1/2 " wide. I don't know what kind of wood it is, but it is very light in color.
He said I could finish it anyway I wanted. He asked if I wanted holes in it. Hmmm...not sure, let's give it a try first and then I will decide. He told me he made it big enough to cover both my cheeks at once. Oh, yes, it does indeed cover both cheeks at once.
So, we gave it a try. I was already lying on the bed and if he blinked he missed how fast I turned over onto my stomach. He told me to count and then, Whack. He doesn't often make me count, though I have found the few times he has that it really adds to the experience for me.
I have also realized that it takes me a couple swats to get started counting. I think that is because it takes me a few minutes to get focused enough. If I don't have to count I can just fly away on the endorphin rush right from the beginning. When I do have to count it takes me a moment to harness those endorphins and get my brain to work.
He probably should have just kept swatting me and telling me to count until I did. Instead he helped me count until I could get it together and do it myself. It took me until number seven to get it together enough to start counting.
Sometimes he went slow and I had plenty of time to absorb the pain and the bloom of pleasure, and then get the next number out. Sometimes he went fast and I was literally panting the numbers out. He used it to massage my legs with little chops from the edge of the paddle all up and down my legs. I love when he does that, it is so relaxing. As soon as I get all nice and relaxed, WHAP, a hard one delivered right to the butt. That makes me jump.
He turned 48 and when I got to number 40 he picked up not only the speed, but the intensity. The last 8 were fast and furious. Then he stopped and rubbed and whispered in my ear checking to see if I was okay. Oh yeah, I was way okay. So he continued spanking me. He covered my butt and my thighs quite nicely. I didn't continue counting past 48, but I'm pretty sure he added a couple decades to his age.
Many orgasms later I decided I quite like his paddle and told him I wanted to negotiate for twice weekly sessions with it. We are still discussing whether or not to put holes in it. I think I would like to try holes, but I also want to cover one side with the leather I have. I already have brass tacks that should look pretty snazzy down the side of the paddle. He says there is no reason to do holes if I am going to put leather on one side.
I see his point, but I still think I might want the holes. So, what's your opinion, holes, or no holes?